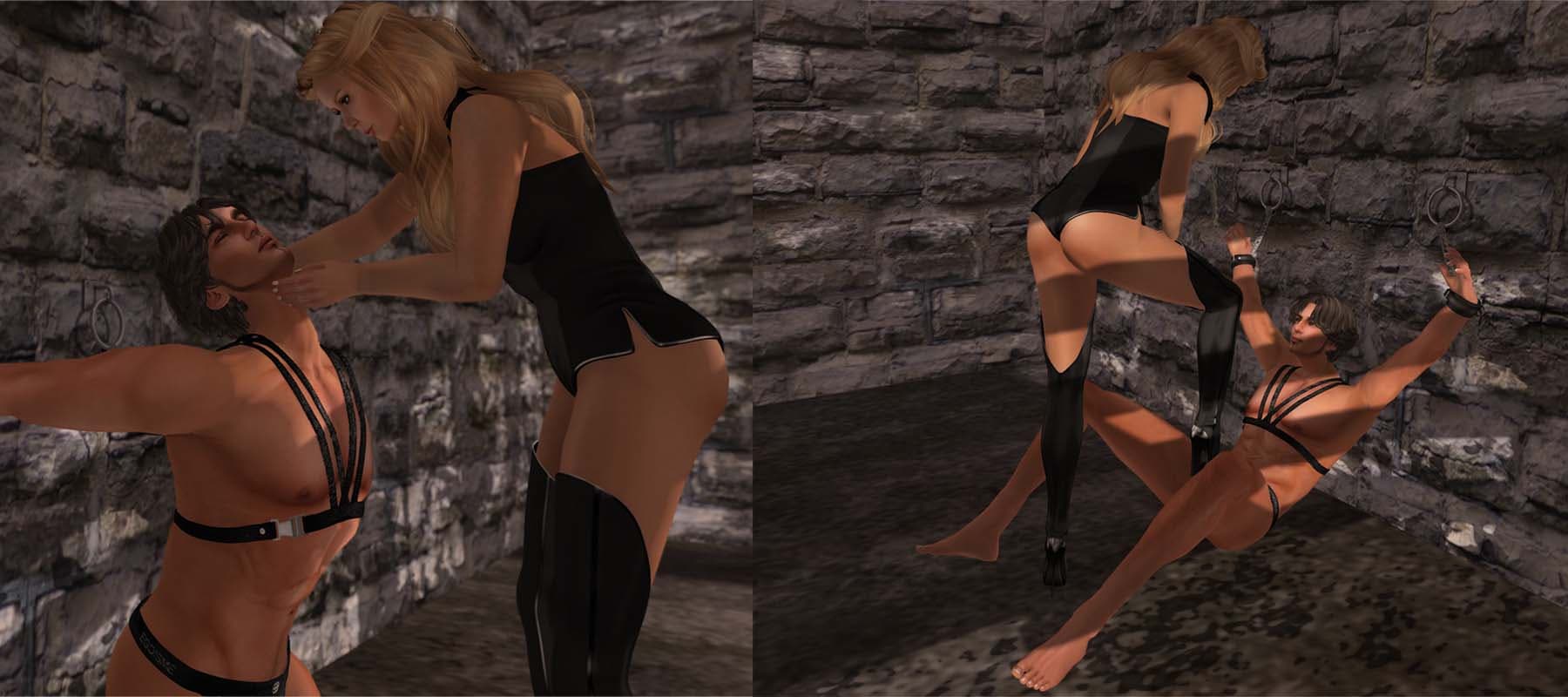 Femdom: Female Domination, Dominatrix and Femdom Fetish
About Femdom
Femdom is a live webcam community for female domination. Whether you are a submissive male looking for a dominatrix or a domme looking for a sub to dominate, Femdom.com is here to make it happen! Everyone who enters the site starts out in the Dungeon Room, where most guests are chatting, putting on shows, watching others, or doing it all. Scroll through the user list on the right to find people you want to watch and chat with. If you find someone who catches your eye, you can watch his or her webcam by either clicking on the 1, 2, 3, 4 button or their webcam icon. The 1, 2, 3, 4 buttons show their webcam in a smaller 1/4 size window and lets you watch up to four webcams at once, while the webcam icon shows their webcam full size. When you are watching someone, you can invite them to a private cam2cam video chat by clicking on the "Private" button over their video. Once in private chat, you can watch and chat with each other without anyone else seeing your video and text. You can also send each other instant messages for as long as both of you remain online.
If you are not yet familiar with Femdom, here are the basics. Femdom, also known as female domination or female dominance, usually represents BDSM master/slave relationships where the dominant partner is female. Usually the dominant female role is called a Dom, Domme, Femdomme, Domina, Dominatrix, or Goddess. The submissive male partner is usually called a sub or slave, and addresses his female dominant partner as Mistress, Madame, Miss, Ma'am, or Lady, depending on her personal preference. A typical femdom mistress/slave relationship ranges from role reversal to more extreme BDSM activities such as spanking, whipping, flogging, trampling, spitting, humiliation, cock and ball torture, face slapping, hair pulling, dripping hot wax on the genitals, and other light torture. Sexual domination is also a big part of femdom relationships, and it can include foot worship, body worship, ass worship, cunnilingus, orgasm denial, feminization, cuckolding (where the male slave is forced to watch his Domme have sex with other men), and forced chastity using props like chastity belts. Other sexual activities can include strap-on dildo penetration, often called pegging, in which the Domme performs anal sex on her sub, facesitting or smothering, which both focus on the sub performing cunnilingus and/or anilingus on the Domme.
Dominatrix
If you are an experienced Domme, Femdom.com offers you an opportunity to be the Dominatrix you deserve, with lots of subs begging for your attention. Your slaves can also send you Tokens, which you can exchange for cash once you become verified. For subs, we offer you access to the sexiest and strictest Dommes from all over the world, who are ready to take full control now. Enjoy!
Female Domination
If you are looking for a female domination relationship, this website will be a good option for you. You can talk to strangers for free. There are many online people who are using this service. You can join it as a registered member or a guest. You don't need to have an account to see our service. Registration is also free all. We are not asking for your card when you want to have an account on our website. You can talk to people with your mic and cam devices. If you don't want to use your camera, so you don't! We don't require our users to have a camera.
Femdom Fetish Chat
You will find the opportunity for femdom fetish chat on our website. You can meet girls and guys who are interested in this kind of chat. There are also couples in our video chat rooms too. You can enter these chat rooms free and start to talk to femdom strangers! 100% free, no camera required, no registration needed!
FREQUENTLY ASKED QUESTIONS
What is Femdom.com?
Femdom.com is a live webcam community for female domination, where submissive men meet and worship their Dominatrix.

What can I do on Femdom.com?
You can watch up to four live webcams, invite people to cam2cam private chat, send and receive IM messages, send offline messages, create profiles, take and upload pictures, and much more.

Can I make money being a Domme on Femdom.com?
Yes. You can receive tips as tribute from other members, and if you become verified, you can cash out your Tokens for 70% of their original purchase price. There are no chargebacks, minimums or payment delays.

How is Femdom.com different from other webcam sites?
Besides being focused on Femdom, this site is a more like a video social network than a traditional webcam site.

How old do I have to be to enter Femdom.com?
You must be at least 18 years of age.

Do I need to register to use Femdom.com?
No. You can watch and chat with other users without registering.

Does it cost anything to register?
No. It does not cost anything to become a registered member.

Do I have to have a credit card in order to register?
Not at all.

What are Tokens, and do I have to have them to use the site?
Tokens can be given to others in to show your appreciation. Tokens are not needed to use Femdom.com.

How do I get Tokens and what do they cost?

Members can buy Tokens by clicking on the "Buy Tokens" button (cost is $0.09/Token), or have others give them to you as tips or for paid private chats.

How do I give Tokens to someone else?

You can give Tokens to others by clicking on "Tip" above their webcam.

Can I see how many Tokens someone else has?
Yes. To see how many Tokens anyone has, click on the "Profile" button above their webcam. You will then see the amount of Tokens that user has on top of their profile.

What is VIP status, and how much does it cost?
VIP members must have at least 270 Tokens in their account. Other than keeping the required Tokens, being a VIP is free.

Am I allowed to promote other sites on Femdom.com?
No. We consider that to be spam, and your account will be banned.

Can I be rude, obscene, or do illegal things while I am on the site?
No. You will be banned without warning.

Does Femdom.com have an affiliate program?
Yes. Click here to sign up for our affiliate program, and make $25.00 for each VIP member referred.